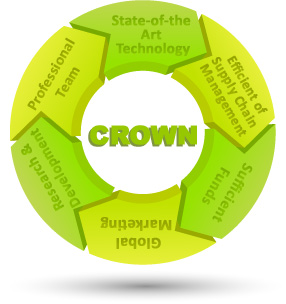 Quality Policy

The working principle is integrity
The working attitude is earnest
The development goal is innovation
The corporate mission is service
Use the mind and attitude of integrity, earnestness,innovation, and service to bring the enterprise to the next level with customers
Competitive Advantage

Superb customized technology
Customer-oriented service capabilities
Providing immediate solutions for customers
Efficient supply chain management
High level of professional training
Vision
Our mission is to establish a learning-oriented enterprise and sustainable business, work for the benefit of mankind, and make the world a better place. By continuing to develop coating, drying and laminating machinery, Crown Machinery aims to become the leader of the industry.
Social Responsibility
At Crown, we take our responsibility for future generations seriously. We use energy and materials sparingly and prevent harmful effects of our production methods on the environment. Sustainable business with us includes an efficient manufacturing process and the development of resource-saving products. It also provides long-term economic success.
We assist our clients in developing an efficient production process and maintain support until a reliable operating system is put into service. Our objective is to provide excellent service throughout the entire life cycle of the machine.